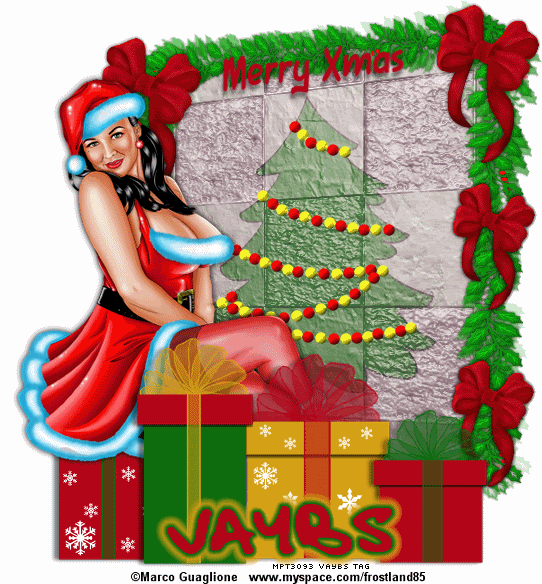 This tutrial is written by me using PSP 10 and Animation Shop 3
Any similarities to other tutorials is purely coincidental and unintentional.
All materials and tubes used are copyright to their respective owners.
Tutorial altered to contain my scraps Nov 08

Supplies
Bow and Mural with greens
here
Gift Boxes
here
I'm using the artwork of © Marco Guaglione
To use it you gotta purchase a license through My PSP Tubes
here
Plugins used
Mura's Meister - Copies
Eye Candy 5: Impact - Gradient Glow (on the name)

Fonts of choise, I've used Fawn Script and Fatboy Slim BLTC (BRK)

Let's start!!

Open the xmas murial, Lights are on 2 layers, ready for animation later.
duplicate the greens around the mural and to the original, add
Mura's Meister copies with these settings.
Add the things you want in front of the murial.
On the boxes I've used drop shadows with these settings
0, -5, 50, 5
On "Merry Xmas" I used this shadow 5, -1, 50, 5

Remember proper ©

When you're satisfied merge visible and copy, paste as new animation in Ani Shop 3
Back in PSP, undo the merge, and open the other xmas lights layer, closing the one
you've used, merge visible and copy, paste after current in Ani Shop 3
And you're done!!

Thanks for trying it out, and hope you've had fun!!
I'd love to see what you've made of this.

Tutorials are © Tutorials by Vaybs
All rights reserved