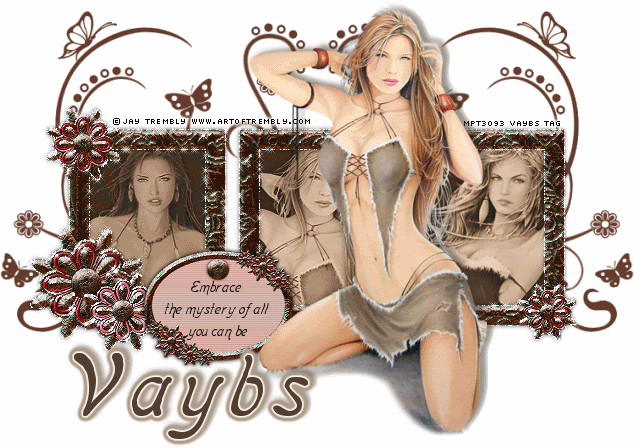 This tutrial is written by me using PSP 10 and Animation Shop 3
Any similarities to other tutorials is purely coincidental and unintentional.
All materials used are copyright to their respective owners.
Supplies
Doodle
here
I'm using the artwork of © Jay Trembly
To use it you gotta purchase a license through Cilm
here
(mine are from his MPT period)
Plugins used
Alien Skin Xenofex2
Alien Skin Eye Candy 5 Impact
Font used Boomerang
Let's start;
Open a new image 650 x 500 flood fill white
Add the frame, use the magic wand to select inside all the frames
while holding down the shift key
Selections - modify - expand 5
add a raster layer below and flood fill with #40301f
Add the 3 images you want in the frames and erase the access.
Add Effects - Photo Effects - Sepia Toning 75 to the images
and give them a drop shadow.
Add the tube in front of the frame give a drop shadow.
The nametag for the quote is resized 65%
and the button 15%
Doodle is resized 80% and colored
Also added a few extra flowers ;) all up to your liking !! :)
Duplicate the frame twice and add Constellation at these settings
hit the random seed button for the other 2 frames
Add the name and give a gradient glow
I used these settings
color is #b09d84
Remember proper © info
Close 2 of the frame layers when done
Copy merged, paste as new animation in ani shop
open next frame closing the one you've used, copy merged again
paste after current, and get the 3rd frame same way.
animate and save.
We're done :))
If you have any questions don't be affraid to ask them ;)
Tutorials are © Tutorials by Vaybs